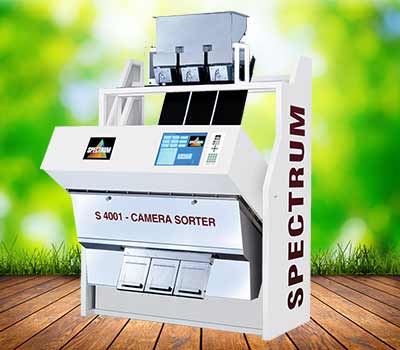 Sortex Machine
Capacity: 1-10 Tons Per Hour,
Color: White
Model: S-4001 MAXIMA
Capacity: 1-10 Tons Per Hour
Brand: Spectrum
Camera: Tri-chromatic
Country of Origin: Made in India
Response Time: 1ms
Resolution: 5048 pixels RGB Full Colour CCD Cameras
Pressure: 7 Bar
Power: 230 V A.C. Single Phase,50 hz
Life Cycle: Up to 5 billion cycles
LED TFT screen: 15 inches
Color Sorters are used to remove color defects from food grains and non-food products as well as to separate foreign bodies in order to meet food safety requirements & standards and achieve purer product quality.
The SPECTRUM range of Color sorters are the culmination of the efforts of constant R & D in color sorting systems, of over two and half decades at Spectrum Industries.
SPECTRUM Colour Sorters ensure that unwanted contaminants are precisely removed and ensure the best purity of bulk products, as well as ensuring that the strictest food hygiene and health requirements of end-products are met.
They are available in 1 to 10 chute versions that meet any requirement of production capacity and can be used for multiple passes at the same time for reprocessing of accepts and rejects.
Using advanced High resolution 5400 pixel x 3, Tri-linear RGB Line Scan CCD Cameras they have a scanning speed of up to 6000 lines per second.
Penta-chromatic High intensity LED Solid State Lighting is used for sharp lighting of the product with extremely long life and consistent operation.
The Cameras scan the product in the Red, Green and Blue region of light simultaneously in order to identify even subtle defects in product quality.
The S-4001 MAXIMA has the ability to detect and reject over 200,000 objects/minute with a defect size of even 0.025mm sq. The Penta-chromatic LED solid state lightning provides high intensity stable lightning with extremely long life, giving the machine the ability to sort multiple products with ease on the same machine, without any requirement whatsoever to change the lightning for sorting multiple products.
They can be used for sorting all types of well as Cereals & Grains such as Rice, Wheat, Maize, Pigeon peas, Green gram, Red Lentils, Cashew, Peanuts, Almonds, Sunflower Seeds, Sesame Seeds and non-food products such as PET flakes, Plastic granules, Minerals etc.
Benefits
Can sort out white skin out defects simultaneously while removing the dark red skin and black defects in Peanuts.
They can sort out the white spots simultaneously while removing the skins and green defects in Pigeon peas
Can sort out the white spot simultaneously while removing dark, green and red defects in Wheat.
Commissioning & Installation:Commissioning & Installation:• On Site Installation and Training Service by our professional engineer.•
Study and Learn the Machine Operation in Our Factory.• Responsive in 24 hours: Telephone, Email, Video or On Site Solutions by our Technical Experts.
After Sales Services:
With presence in various countries, Spectrum Industries is strongly committed to being close to the customer.
hrough cooperation with loyal and carefully evaluated and trained local employees and partners, Spectrum managed to provide fast, competent and rooted services in the context of customers.
Application centre in Mangalore production base offer demo machines for tests and comparison.
A strong central technical team in India is supporting local channels with training, advice and technical support.
Under normal working circumstances, Spectrum machines enjoy 1 year of full warranty and a lifelong warranty on the machine structure from the date of purchase.
Service line is available for emergency support.• Spectrum products will be serviced and supported wherever customers are located.
Through the global Spectrum network and from Spectrum technical experts, training on Spectrum machines is available worldwide.
Packing & Shipping:
Machines are carefully packaged to endure transportation under harsh conditions.
Handling instructions are designed to protect the machine in the critical moments during transportation, unloading and installation.