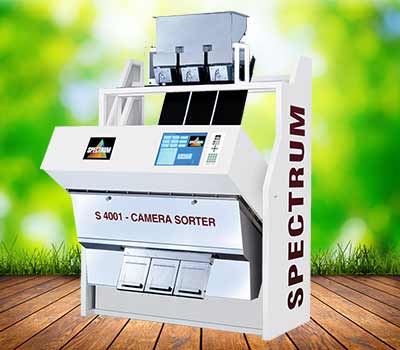 Coffee Sorter
Capacity: 1-10 Tons Per Hour,
Model: S-4001 MAXIMA Coffee Sorter
Color: White
Model: S-4001 MAXIMA
Capacity: 1-10 Tons Per Hour
Brand: Spectrum
Camera: Tri-chromatic Coffee Sorter
Country of Origin: Made in India
Response Time: 1ms
Resolution: 5048 pixels RGB Full Colour CCD Cameras
Pressure: 7 Bar
Power: 230 V A.C. Single Phase,50 hz
Life Cycle: Up to 5 billion cycles
LED TFT screen: 15 inches
The SPECTRUM S-4001 MAXIMA series CCD Camera-based Colour Sorters are a result of colour sorting machinery manufacturing experience of over two decades, at SPECTRUM INDUSTRIES.
The S-4001 MAXIMA uses advanced 5048 pixel RGB Full Colour CCD Line Scan Cameras that produce a very high-resolution image of the object.
The machine has RGB LED Solid State foreground and background Lighting that provides High-Intensity long-life stable lightning.